The Grand Slam Development Fund was originally established in 1986 to encourage and increase competitive opportunities in developing tennis regions. With annual contributions from the four Grand Slam tournaments, the Fund has become an effective means to develop competitive tennis worldwide.
The Fund is designed to assist players directly, through touring teams or travel grants (known as Grand Slam Player Grants), to gain international competitive experience. This has helped increase the number of nations represented in Grand Slam tournaments and other international competitions. The fund has contributed more than $50 million to tennis development since its inception.
As the 2021 Australian Open gets under way in Melbourne, we take a look at five main-draw entrants who have benefitted from the GSDF's Grand Slam Player Grants.
In 2017, aged 22, Jabeur received a $50,000 grant that would help transform her career. A Roland Garros junior champion in 2011, six years later she began the season ranked No. 193 in the world before reaching her second career WTA quarter-final in Taipei. In May of that year, she became the first Arab woman to reach the third round of a Grand Slam at Roland Garros, and finished the season in the top 100.
"That was the first year when I broke through – it was really important for me to be able to pay my staff, to pay for a coach," Jabeur said. "Tennis is expensive, and you need a lot of money to travel, so I'm so grateful for this fund and the way they helped me. Since then I haven't gone out of the top 100 – I was stable, I was really able to play a lot of great tournaments. It was really good timing, to be honest!"
Things have only got better from there. Her first WTA Final followed in Moscow in 2018 and she ended the year at No. 62 in the world. A second top-100 season followed before her next big breakthrough: by surging to the quarter-finals at the 2020 Australian Open, she became the first Arab woman to reach the last eight at a Grand Slam.
Runs to the third round of the US Open and the last 16 at Roland Garros have helped lift Jabeur to a career-high ranking of No. 30 and earned her third Grand Slam seeding in Melbourne.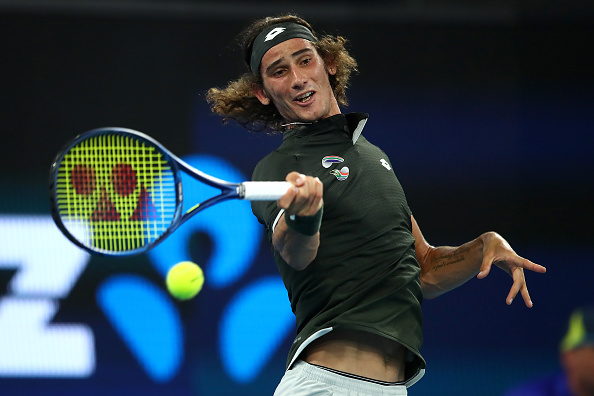 Like Jabeur, Lloyd Harris was one of the first GSDF International Player Grand Slam Grant recipients, receiving $50,000 in 2017 and $25,000 grant in 2018 – and he is all too aware how critical such funds can be in a player's development.
Just a few years earlier, the South African was forced to contemplate the end of his tennis career before it had truly begun as the cost of financing an elite junior career took its toll.
"It was a tough time," Harris admitted in 2019. "We ran out of funding, my parents couldn't afford more, and sponsors were tough to find. But we came up with the money, and I started playing really well on the ITF Futures tour and was able to continue my run on the pro tour. I was very fortunate – it's something I'll always remember."
Buoyed by the additional funds, Harris – then 19 years old – made the transition from the ITF World Tennis Tour to the ATP Tour, making his debut in 2017, earning his first ATP match win in 2018 and breaking into the top 100 in 2019. In 2020 he reached his first ATP final in Adelaide, and later that season went on to become Africa's top-ranked male player after hitting a career-high No. 72.
Hurkacz rose to prominence as a 21-year-old in 2018 – the year he received a Grand Slam Player Grant of $25,000 – when he captured two ATP Challenger titles and reached the inaugural Next Gen ATP Finals in Milan.
Since then, the Wroclaw native has gone on to win two ATP Tour titles – in Winston-Salem in 2019 and Delray Beach in 2021 – becoming just the second Polish player to win an ATP title after 1978 Australian Open doubles champion Wojciech Fibak, who won 15 singles titles between 1976 and 1982.
Having benefitted from the Grand Slam Development Fund on his own journey to the professional ranks, Hurkacz hopes his example can provide an easier pathway for the next generation of Polish players.
"It would be great to help the growth of tennis in Poland, so that many young people in the future can compete at the ATP level," he said in 2018. "We already have many kids who play very well; I hope that one day they can reach the professional game."
Moscow-born Rybakina's ranking rocketed almost 150 places from No. 171 to No. 36 in 2019, the year she received her $25,000 Grand Slam Player Grant – a step-change she attributed in part to hiring a full-time coach, former ATP player Stefano Vukov.
"I finished school and I had to decide if I should go to college," she told WTA Insider in 2020. "It was difficult for us financially. It's not easy – like every parent, [my Dad] was worried if I get injured.
"In 2018 I tried to also work with a private coach, Andrei Chesnokov. He couldn't travel with me. In 2018, I was still practicing in the group, in the tennis school with the other kids in Moscow. Now, every week Stefano and I are working together. It's really good because we can improve at the tournaments and everything."
A title win at Bucharest was coupled with a final appearance at Nanchang and semi-final runs at 's-Hertogenbosch and Luxembourg, followed swiftly by her second WTA title in Hobart in 2020. Today she is the world No. 21, aiming to build on her third-round showing at last year's Australian Open – her Grand Slam best performance to date.
Having landed six ITF World Tennis Tour titles and over 70 match wins in 2019, former NCAA tennis player Sherif went from being unranked to breaking into the top 200, and put herself in contention to be the first Egyptian to play at the Tokyo 2020 Olympics.
With the help of a $12,500 Grand Slam Player Grant in 2020, the 24-year-old has gone from strength to strength, pushing her ranking to No. 128 in November on the back of becoming the first Egyptian woman to contest a Grand Slam after qualifying at Roland Garros, where she took former world No. 1 Karolina Pliskova to three sets in the first round.
It is a fine return for the former top-50-ranked junior, who opted for University after being unable to afford the cost of travel to tournaments in her late teens. Even in her breakout 2019 season, money was always on her mind.
"Honestly it meant so much, just to know that someone out there is trying to help," Sherif told the ITF at Roland Garros.
"That it's a committee that almost gets nothing from helping me, they are just betting on it because they believe that I'm from one country that needs some help, it gave me some mental push to be honest," said Sherif, who also qualified for the Australian Open. "It's really helping me a lot."