Summer Volunteer Opportunities
SVO in Ghana:
Summer Volunteer Opportunities in Ghana is an offshoot organization of Tennis Foundation Ghana. Tennis Foundation Ghana is a not for Profit Organization that works closely with the Ghana Tennis Federation in providing training and competition Opportunities for Children in Ghana. All Volunteer Work will be done in Accra, the Ghanaian Capital.
Volunteer Work and Project Length: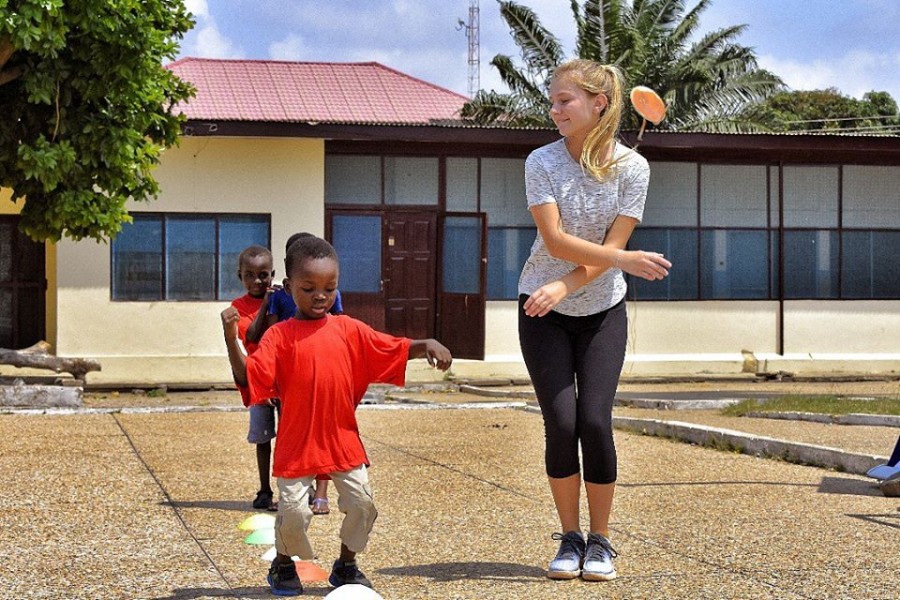 Summer Volunteer Opportunities in Ghana seeks to provide Volunteer Opportunities for Students from around the world to teach, learn and foster friendships using Sports and Education. Volunteers are placed with summer camps, schools and orphanages in Ghana while touring and learning about the rich history and culture of Ghana and the West African Sub Region. The maximum length of stay is 2 weeks.
Number of Volunteers:
SVO in Ghana can only take a maximum of 20 volunteers per summer. The minimum recommended age is 16. Exceptions will be made for volunteers 15 and younger if accompanied by family member.
Communication:
US Cell Phones WORK in Ghana. Please contact your service Provider and sign up for an International Plan for Ghana. WiFi is available at the Main House. We recommend that Volunteers bring a MiFi for communication when not at the Main House.
Electricity:
Ghana uses the British "square power outlets" with 240 Volts. Volunteers are required to bring mini step down electricity transformers compatible with the local electricity output.
Accomodation:
Volunteers will be housed in a House with 2 people in a room. The rooms are equipped with comfortable beds and sheets. All rooms have air conditioning and hot showers. There is also mosquito nets on the windows and doors. There is a Lounge for entertainment etc.
Food:
Three Meals will be provided every day. Most Meals are usually Chicken, Beef or Fish Based. However, Vegetarian meals can be arranged. Lunch is usually eaten at the location of work for that day. Breakfast and Dinner are eaten with the Group at the Main House. Tea, Coffee and cold water are available all day. Volunteers are allowed to cook for themselves if they so wish and give advanced notice.
Minimum Requirements:
Good Communication in English.
Motivation to give back and work with less privileged children.
Tennis / Sport Playing and Teaching ability Good but NOT required.
Ability to Organize and Show Leadership Skills and work in a group.
Vaccinations (Consult your Primary Care Physician)
Program Cost: $2000
Arrival Airport: Kotoka International Airport (ACC)
The main International Airport in Ghana is Kotoka International Airport. The International Air Transport Association (IATA) Code is ACC. The Airport is located about 20 minutes from the city center.
What is Included:
Accomodation, 3 Meals, Local Transport to volunteer sites, Tours and any entry fees to such places.
Places of Interest/ Trip Highlights:
Arts Center, Accra
Kwame Nkrumah Mausoleum
Independence Square
British Accra, Ussher Fort and James Fort
Christianborg Castle
Elmina Castle
Cape Coast Castle
Kakum National Park and suspended walkways
Location:
Ghana, a nation on West Africa's Gulf of Guinea, is known for diverse wildlife, old forts and secluded beaches, such as at Busua. Coastal towns Elmina and Cape Coast contain posubans (native shrines), colonial buildings and castles-turned-museums that serve as testimonials to the slave trade. North of Cape Coast, vast Kakum National Park has a treetop-canopy walkway over the rainforest. The Pride of Sub Saharan Africa, Ghana was the first Country in the region to become independent in 1957. Ghana is considered one of the safest havens of tourism and development in Africa,
Capital: Accra
Currency: Ghanaian cedi
Orientation:
All necessary training and introductions provided upon arrival. Volunteers are encouraged to bring any equipment they would like to use in a presentation. Ghana is a very Safe Country. Ghanaians are very hospitable and generous with a wicked sense of time and direction and distance.
What's NOT Included:
Flights, Entry Visa ($150 for multiple entry; recommended), Travel /Health Insurance, Personal Expenses.